Phyllo with Goat Cheese and Tracklement's Fig Relish
A delicious and uncomplicated make-ahead hors d'oeuvres.
by Jodi MacKinnon (QFG)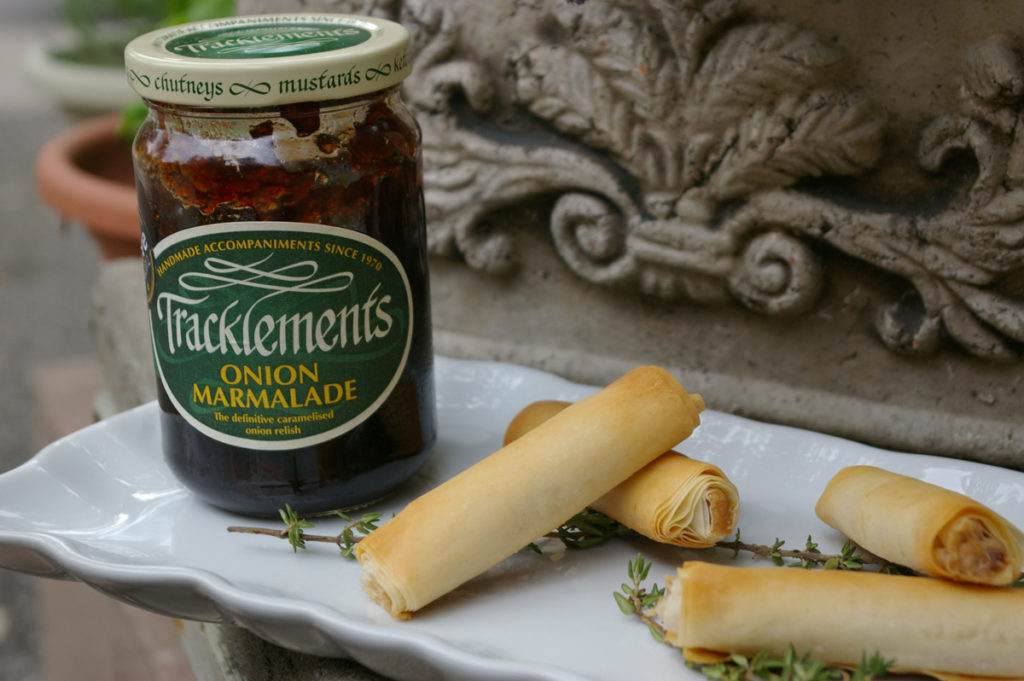 Ingredients:
3

tbsp

Tracklement's Fig Relish

1

Tbsp

water

5

oz

goat cheese

(at room temperature)

1

tsp

fresh thyme

(finely chopped)

1

clove garlic

(finely chopped)

1/4

cup

unsalted butter

(melted)

1/2

pkg

phyllo dough

(thawed)
Instructions:
In a small saucepan combine the fig relish and water and melt over low heat. Cool.

Combine the goat cheese, relish, thyme, garlic, and season. The filling can be refrigerated for several days.

Lay a sheet of phyllo on a counter and brush the surface liberally with butter. Repeat for two more layers.

Cut the phyllo sheet in half horizontally and then into 6 strips lengthwise.

Place a small mound of the goat cheese filling at the end of each strip and roll into a cigar, tucking the ends in.

Place on a parchment-lined baking sheet. Brush the surface with melted butter and sprinkle with Maldon salt.

Refrigerate for at least 30 minutes or overnight.

Preheat an oven to 375ºF.

Bake for 15 to 20 minutes or until the pastry is golden.

Let cool slightly before serving.
Having a handful of simple recipes for hors d'oeuvres is essential for any cook. Entertaining should not always entail hard labour in the kitchen (or at the grocery store.) Late afternoon or evening cocktails with one or two easy nibbles is deliciously uncomplicated and leaves plenty of time for both guests and host to enjoy the company.
There's plenty of edible offerings to be had with very little work – quality olives, roasted almonds with coarse salt and esplette pepper, or delicious crackers, topped or not. When making hors d'oeuvres the best advice is to keep it simple. One really delicious bite with a glass of wine is near perfect. The mandate for casual entertaining is to stimulate the palate, not satisfy an appetite.
The task of preparing hors d'oeuvres is easy when ingredients at hand are used. These phyllo and goat cheese packages are made with Tracklements Onion Marmalade, a delicious and sweet condiment that is versatile enough to be a fridge staple. They are simple to make and can be prepared up to a day in advance. They can go from the refrigerator to the oven while drinks are being mixed and can be enjoyed warm with little fuss.
Even better still, the filling can manifest in many ways. It makes a delicious topping for simple and salty garlic crostini with a sprig of Italian parsley or a sprinkle of finely chopped chive as garnish. It can be piped into small pre-made tart shells and served as is, or spread on good sourdough bread and topped with cold, shaved roast beef.
Tracklements makes a complete line of sauces, jams, marmalades, chutneys and other delicious condiments. The simple and direct natural flavours are the perfect accompaniment to a variety of foods and can also be used as dips, marinades and creative cooking.
Learn more about Tracklements here.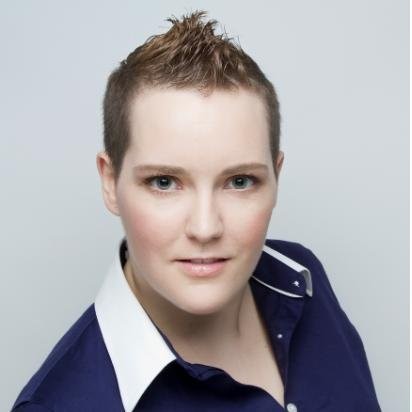 About Jodi MacKinnon (QFG)
Qualifirst's COO, Jodi loves cooking and baking, taking raw ingredients and turning them into something that is absolutely delicious, with just the right flavour balance, is one of her favourite pastimes.