Qualifirst and Far-Met have always concentrated on European fine foods, with the occasional product from the "far east" as people used to call it. Those products were Soy Sauce, Mirin, and a few other minor products. Qualifirst started expanding into Japanese and Chinese ingredients in the 1990's, responding to various customers eager to tap into our reputation for quality.
When the casino in Windsor opened, Qualifirst was the primary supplier of a vast array of Chinese and some Japanese ingredients, noodles, and spices.
Introducing Yakami Orchard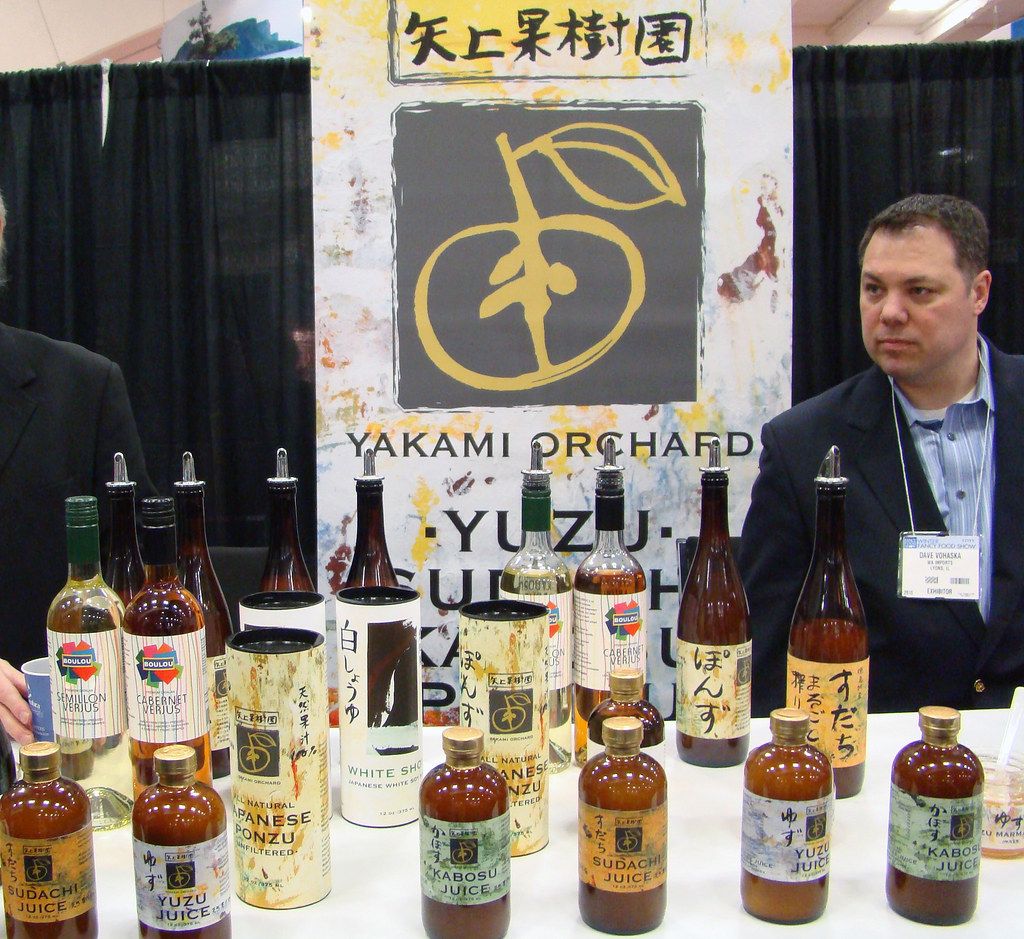 At a trade show Qualifirst met with Yakami Orchard which are located in the Miyazaki prefecture of Japan, the southern tip of the island of Kyushu facing the Pacific ocean.
Yakami Orchards consists of a family of growers (some fourth generation) upholding the traditions of producing quality citrus products. Cool ocean breezes give this region some of the world's finest citrus, including:
YUZU: Typically Japanese (origin in China & Tibet), this small citrus fruit produces a unique juice that was little known until Qualifirst started bringing in the pure juice. Previously it was sold diluted to about 3% in solutions of dubious quality. Harvesting the fruit requires dexterity (or armour …) due to the thorns on the small bush. A primary ingredient of Ponzu Sauce this small citrus is used in Japanese cuisine in a wide variety of dishes. Chefs are particularly interested in the unique tartness, a new flavour for the western world.
SUDACHI: Also typically Japanese, Sudachi is a green citrus and basically a cultigen of Yuzu. I have included the link to the detailed definition of "cultigen" because it is interesting and topical in the world today where the battle against artificial genetically modified crops is heating up. Cultigens are natural not considered GMO. A flavanoid found in limes is found in Sudachi but absent from Yuzu and Kabosu hence the cool taste of Sudachi. It grows mainly on an island to the north called Shikoku. Another unique flavour for Chefs and consumers in North America.
KABOSU: Like Yuzu this greenish-yellow citrus is grown on Kyushu. Brought over from China in the 1700's during the Tokugawa Shoganate it became a popular food and is considered part of Japanese cuisine. It lookes a lot more like a lemon than Yuzu, is harvested while green.
The Yakami Orchard growers process fruit in small production batches, ensuring the quality and consistency of these delectable fruits. The thorns may also have something to do with this, but I digress … The fruit is processed with a view of capturing the freshness, the zest, and the character of the juice.
Qualifirst has the following items from Yakami Orchard:
The Yakami Orchard Juices:
YUZU Juice: (103074) This is the pure juice Qualifirst brought in first. This has turned into a cult ingredient but the key fact is that it is pure, undiluted and unsweetened. It is super tart. Most other products sold are significantly diluted which explains lower-priced competing products. There is no shortage of adulterated, diluted, or 'lemon-juice-concentrate-added" imitators out there so diplomatically remember that Yakami Orchards is pure.
PONZU Juice: (103084) Authentic made in Japan this Ponzu is made traditionally by simmering Mirin, aged rice vinegar, Katsuobushi flakes (tuna), and Kombu (seaweed). It is unfiltered and pure with the sharp, clean flavours Chefs prize and our customers deserve. It is used to make Ponzu Shoyo by simply adding Soy sauce. It is important to make this difference because other "Ponzu Sauces" dilute the Ponzu Juice with soy sauce, creating a cheaper product. This is the pure, primary ingredient. Modern uses for Ponzu is as a dipping sauce.
SUDACHI Juice: (103088) In Japan Sudachi is the required pairing for Matsutake mushrooms. Although technically unique, it has a lime note that is pronounced intriguing Mixologists and attracting seafood Chefs for heightening fish flavours in more oriental direction.
KABOSU Juice: (103086) As mentioned earlier, Kabosu looks more like a lemon than Yuzu does but that visual similarity to the lemon all it has in common with the ordinary lemon. Pressed into juice while still greenish to capture that unique mint-melon lemon taste, Kabosu is a unique ingredient prized by Chefs and Mixologists in bars.
Marmelade & Sweet Rub:
YUZU Marmelade: (103072) Sweetened with sugar and honey, this tart marmalade is the "east meets west" discovery for any classic orange marmalade lover. A retailer asking a customer if they like orange marmalade then if yes suggesting this item will be valued. It is more expensive and for good reason: Yuzu is not a volume cultivation like orange but the volume is growing with plantations sprouting up around the world … like Wisconsin (!).
YUZU KOSHO Sweet Rub: (103069) This is cool. Typically from the island of Kyushu, Yuzu Kosho is a salt-cured condiment made with Yuzu citrus peel (20%) and chilies (80%). Freshly made it is intensely fragrant, hot, and you know it is there. This one is "sweet" only because it is not as hot as it could get. It is a condiment so use it like a hot relish, for meats being cooked, add to any sauce, or with cold cuts. Yakami also adds Kombu (seaweed) to their Yuzu Kosho also "sweetening" this normally hot condiment. Small jar and a real discovery for the curious foodie.
Authentic gateway to flavours of Japan:
Yakami Orchard products together represent an authentic gateway to flavours of Japan, specifically the island of Kyushu. By concentrating on purity of the product Qualifirst leaves the decision of dilution in the hands of the Chef, Mixologist, and consumer. Of course a cheaper product could have been "designed" by dilution or adulteration, but Qualifirst does not do that.
The Qualifirst pride of selling such an outstanding product line is only exceeded by the evident pride of production which can be tasted … in every Yakami Orchard product.