Running a retail food operation has been (accurately) compared to being an accountant engaged in physical labour, hired for international diplomacy, appointed for community psychology while swimming in a sea of endless salesmanship ... smiling all the time. It is a tough, demanding, yet rewarding career.
There are so many things to do (running retail) that trying out new ideas gets pushed to tomorrow … every day.
The goal is to become a destination store, where people go more often, for many reasons, with a strong sense of retail loyalty.
To become a destination store, good retail ideas have to be put into motion every day.
I read a lot about food retail, and have sold for decades into fine food operations. It is a privilege talking long into the dead hours of the night with some of the finest retailers around. It is in the late hours, coffee in hand & mind open, that retail operators can relax somewhat and open up.
With the internet, these ideas – the good ones – circulate a lot more. Unfortunately, so do the bad ones, the crazy ones, and the impractical ones. It is tough to filter out the good ones. So smart people listen to experience in the trade that have a real vested interest in their success.
What is a destination store?
Let's start with defining what a destination store is … to that customer that considers it "their store" with that possessive attitude that any retailer will recognize.
So what are some of the classic, obvious, proven hallmarks of a destination store?
Clean floors, fixtures, & shelves. Customers scrutinize stores for cleanliness.

Neat staff, identifiable by dress, name tag, & clean cut appearance.

A solid assortment of regular products.

A solid assortment of products oriented towards your retail direction.

An exciting selection of gourmet items.

Programs that make the store a destination rather than just a store.

Helpfulness from all staff, at all times, to all customers.

Knowledge in both passive (signs on products) & active (staff knows) forms.
Instead of writing an essay on all of the above (maybe a later post …) we will assume the store is spotless, staff is clean and keen, there is a good selection of products, you have some gourmet lines, you know what training is & apply it to your staff, and your signage is acceptable.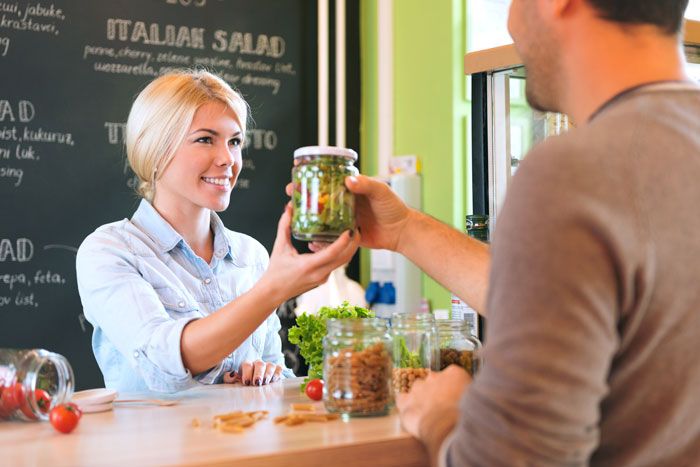 Grab and Go items:
Let's talk about one of the most profitable – and poorly understood – growing segments of a retail food operation: "GRAB n GO items" which cover: 1) Ready-to-eat, 2) Ready-to-take, 3) Ready-to-return-to-the-store.
This means that store has to make the following organizational adjustments:
Set up a food-safe food preparation area & staff it.

Shift displays to have refrigerated coolers to display the finished product.

Incorporate the items into a program so customers have to return to benefit.

Replace poor quality corporate brands.

Running retail just got tougher but keep in mind that the driver behind this change is that favourite person: the customer.
Ready to eat:
A few tables and plated food to eat on the run. A coffee bar, Tea. A bowl of fruit sold by the piece qualifies.
Ready to take:
Sandwiches (make them extra-ordinary) is the easy way out … think fresh Sushi! Make hearty soups that customers can buy and when home, serve immediately.
Ready to return to the store:
Old in-store demonstrations from the 1990's fed customers hoping they would buy. In the 21st century the demonstrator is making something and the customer is also taking home knowledge about the finished product, including a desire to come back and learn something else. Today a demonstration is showing how to make pizza in the store (a grab n go item) teaching people to make it themselves and advertising that next week the demonstration will be on smoking meats and fish. The customer plans to return.
Essential Characteristics to Store Traffic and Profitability
Grab n Go items have six essential characteristics that are oriented towards building store traffic and improving profitability:
They are made on the premises (preferred) or manufactured to order for the store.

They are branded specifically for the store (no secondary brands).

They address customer demand for convenience.

They address customer demand for quality to ensure repeat business.

They exceed expectations for the product as defined by the customer.

They educate the customer directly and indirectly.

Retail operations have (initially) a difficult time with the idea of making items, or setting up a preparation area because traditionally, stores sold finished items.
Actually, this is not true.
It is only very recently that stores only sold finished items. Go back far enough and a lot of what was in a store was sourced locally. Most stores had a kitchen in the back, produce came from local farms, nails came from the local blacksmith, jams came from local people making & jarring it.
Hellmann's Mayonnaise was originally made as a side item in a Deli, called Hellmann's Deli (surprise surprise), but customer demand built up until cold cuts were abandoned to make Mayonnaise full time. This is a classic 'Grab n Go' example.
Well, stores have to face the fact that they are going to be preparing items for sale and this trend has already been building up for some time.
Examples of the Grab n Go mentality in the past decade has been:
Sausages made in-house (meat area)

Bread made in-house (bakery area)

Fruit sliced up and packaged (Produce section)

Coffee actually roasted in-house from green coffee beans (coffee & Tea aisle)

In-Store roasted chicken (near the front of the store to pick up hot)
This customer demand has been fueled by the fact that the corporate production of food – the food industry – has put profit substantially ahead of quality (health & taste) using the cheapest ingredients the corporation can get away with.
Consumers are not dumb
They see the big brand name retail items going from bad to worse. The most obvious reaction to this abysmal drop in food quality is the emergence of Whole Foods, who address the quality aggressively and gain the customers. The other reaction is Retail – small and medium sized – getting into the Grab n Go segment in an organized and determined way.
Any food retail can learn a lot from the typical Whole Foods operation but you can make good steps yourself as long as you understand where the demand is coming from: Product quality.
Making good pizza from scratch once a week and selling it at a fair profit will be a smoking hot deal for your customers because the real cost of good quality ingredients in a big pizza is very very low. Make money and give your customers a deal.
Making Sushi requires a clean area to work in and absolutely fresh seafood. There is no shortage of companies to train staff to make Sushi. it moves fast and is easy to make.
Grab n Go Success Secret:
Do not go cheap. You are feeding your customers, not slopping the hogs. Treat your customers with respect and use innovative, higher quality ingredients.
One store we supply the real YUZU for their oriental salads. Tastes authentic? No wonder. Using specialty rices for Sushi including brown rice and black rice captures the attention of Sushi lovers who are tired of the white on white traditional Sushi.
In England, sandwich construction is so competitive that the average Ploughman's Sandwich in stores where they make it fresh daily is a feast … delicious.
Wait a few years and you will have an App where you can order your specific sandwich made to order for pick up, or your soup, or a chocolate cake made with a serious Chocolate like Michel Cluizel. You will pay an extra $5 for using that chocolate but if you are buying a cake, why would you want a lecithin-loaded brand X just because it is cheaper?
Another cool Grab n Go category for a store is jam. I make my own jam because it is easy and better than any industrial jam out there, it really is idiot-proof.
As Julia Child once said, "Once you have mastered a technique, you barely have to look at a recipe again."
A store can rent a kitchen and set up production of hand-made strawberry jam, in jars food safe with the label proudly naming the store. Jam you make yourself is so superior to the plastic crap sold in stores that any store making their own jam will immediately see an increase in traffic. The store will also make more per jar.
The real bonus is this: The only place a customer can get more jam like that is your store!
Give your customers value and address their Grab n Go needs, they'll return and turn your store into a destination!
Grab n Go is less a destination, more of a change in philosophy for retail. Embrace it, give your customers more value, and your traffic and profits will rise.