One of the most fascinating and skill-required retail operations is the professional butcher shop.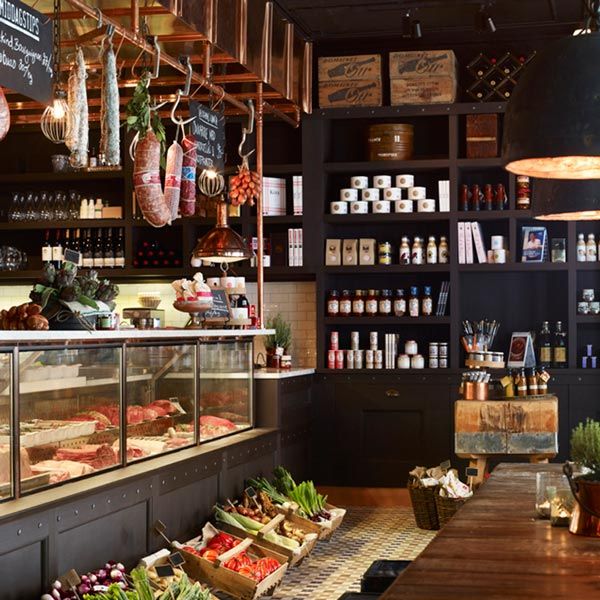 I have spent many years visiting restaurants and fine food retailers during my time in sales at Qualifirst Foods, and although many similarities, the butcher shop has always been a unique case.
I have seen butcher shops come and go with the same regularity as fine food retailers with one key difference; some butcher shops have been around forever, still hard at work today.
The business environment has always been tough for butcher shops. Under siege by chain store meat departments and consumer's being lured away by substandard meat products at low prices, has always made it difficult to compete.
It is getting tougher for all retail in the 21st century and butcher shops are certainly no exception.

So how does a butcher shop compete, surrounded by chain supermarket meat counters and price discounters?

Is it as simple as standing out from the crowd in the workplace?
Simply by being the best at what you do, with an eclectic social side to work, that makes people understand you are the real deal.
A butcher shop must become a destination for their customers … for their meat, for their accompaniments, for their culinary solutions, and for their lifestyle.
It is hard to face, but all fine food shops must realize that people do not come to their shops because they are hungry.
People come to butcher shops to get better hand-selected products and more reliable service.
People come to eliminate issues in meal time scheduling. People come to address the needs of their lifestyle.
Customers frequent butcher shops because they have learned what butchers know: meat counters in chain stores cater to mediocrity on a good day, and on a bad day, average meat counters are so shocking, it is beyond description.
How to become a destination?
The answer is beyond the meat. It is understanding what customers really want. That is the starting point.
What does a customer entering a butcher shop for the first time expect?
An immaculate store.

Attentive service. Better than any chain meat counter.

Butchers, not students, clutching the knife or cleaver.

Knowledge about cooking every kind of meat.

Knowledge about safely storing and handling meat.

Knowledge about the ingredients in the shop made sausage.

A strong assortment of condiments, spices, and meat associated accompaniments.

A total commitment to solving issues in meal scheduling.

An ongoing commitment to expanding their knowledge of food and food preparation.

An accepted and respected member of the community of people that source their meat from that butcher shop.
Quite a list, and it is the short version.
Let's break it down.
An Immaculate Store:
Most successful butcher shops are already tiled and clean, but to really impress the customer clean is not enough.
The outside door, outside window, and outside wall have to be pristine. Inside even more so. Butchers are so busy serving customers and working the business they often neglect the area in front of the counter. Even if the area behind the counter is immaculate, the butcher shop will be judged by the grime in the corner of the floor in front of the counter.
I remember asking a successful butcher how he kept his store so immaculate. His reply was classic. "I let my mother spot what has to be done. Then I write notes to the cleaners. And yes Yves, the corners in the front of the store are frequently visited by toothbrushes soaked in bleach."
Attentive Service:
This is where the chain meat counter cannot deliver. It is critical to train…train…train the service team in a butcher shop to be attentive, polite, and efficient.
Remembering customer's names is ideal. And the key to attentive service is to recognize and pitch in when the counter becomes overloaded with customers.
Butchers, Not Students, Clutching Cleavers:
Every employee must have a name tag so customers can immediately connect. Butchers should be identified as such and students can have any number of titles, or no title at all, depending on the owner. A student employee, deferring to the butcher's expert advice, makes all the difference to the customer.
Knowledge about Cooking Meats:
The most frequently asked question of a butcher shop employee is about cooking time. The entire team working the counter must know the basic cooking times per weight, of every item.
The easiest way to accomplish this is to include the information in the store manual that all employees must learn. Memorizing the times may be tough, but after being asked repeatedly "How long to cook this roast?", the answer will become automatic.
Cooking time per cut of meat varies, so be specific. Flash cards with meat cuts on one side, and cooking temperatures and time per pound or kilo on the other, is a fast way for new staff to learn this vital information.
Knowledge about Safely Storing Meats:
Customers appreciate this knowledge, particularly when buying delicate meats. Recommending that a thinly sliced meat be put in the fridge as soon as possible, communicates product knowledge. Customers buying a large number of meat slices should be advised to transfer the meat to a sealed container in the fridge.
Staff should also be prepared to answer questions regarding safe handling and proper meat temperature to ensure safe levels of doneness.
Knowledge about the Ingredients in Shop-Made Sausage:
Having this knowledge actually brings customers back. A customer inquiring about the ingredients in the Merguez (a classic lamb sausage) will be enchanted when the staff responds that "lamb shoulder from the shop, lamb fat, Kosher Salt, and just the right amount of cayenne, cumin, coriander, fennel, and Spanish paprika" are used. Much better than a blank look or an "I don't know".
A Strong Assortment of Condiments, Spices, and Accompaniments
Having what I call "meat associated condiments" on the shelves and on the counter makes the shop a true destination.
Real mint sauce, Cranberry sauce, Pyramid Sea Salt, spices of all kinds, meat rubs, Spanish Paprika, French Cornichon, Dill Pickles, Dijon Mustard in a preserve jar, Grainy Mustard in a preserve jar, Spicy Vegetable Mixers, and in fact a full spectrum of unique, high quality, meat oriented items that are not sold in supermarkets.
Since the meat departments of chain stores are direct competitors, it is critical to carry quality condiments that chain stores do not. Unique one of a kind ingredients that make your butcher shop a destination.
A Total Commitment to Solving Issues in Scheduling the Meal:
This little-appreciated, and unfortunately rarely used, service is a key to repeat business. A butcher shop that solves the problem of meal scheduling by providing ready-to-cook meat-based solutions will get repeat business, and lot of it.
This means stuffing chicken breasts with asiago cheese and a few asparagus spears. Voila instant meal. Pre-seasoned chicken wings and legs. Ready-to-heat pot pies. Pre-stuffed chickens. The list is endless.
A Real Commitment to Increasing their Knowledge about Food:
Customers are at the butcher shop for meat, absolutely. But enhancing their lives with knowledge offers real value, and will get customers coming back.
I particularly love what I saw on the bulletin board of a butcher shop in San Francisco. A food question of the day. On that particular day, "Which neighborhood in San Francisco is named after a cut of meat?" (Tenderloin).
This little added touch makes the shop a destination that gets customers coming back.
An Accepted Member of the Community of People that Source their Meat from that Shop:
Calling people by name and really getting to know them makes a huge difference.
A customer entering a butcher shop for the first time and hearing the shop staff calling another customer by name…that creates atmosphere.

Customers love an inviting and welcoming atmosphere, and they will come back.
And how about this? That price sticker on the brown butcher paper that usually has the price and product information, how about adding?
Thank you for your business. We are YOUR Butcher Shop and cannot wait to serve you again!
The customer will say, and rightly so, "That was great! I will come back. This is where I will get everything I need when it comes to my meat."