Gluten-Free Quinoa and Banana Muffins
No one will know this delicious banana muffin is gluten-free. Change it up and add chocolate chips or chopped nuts.
by Deborah Reid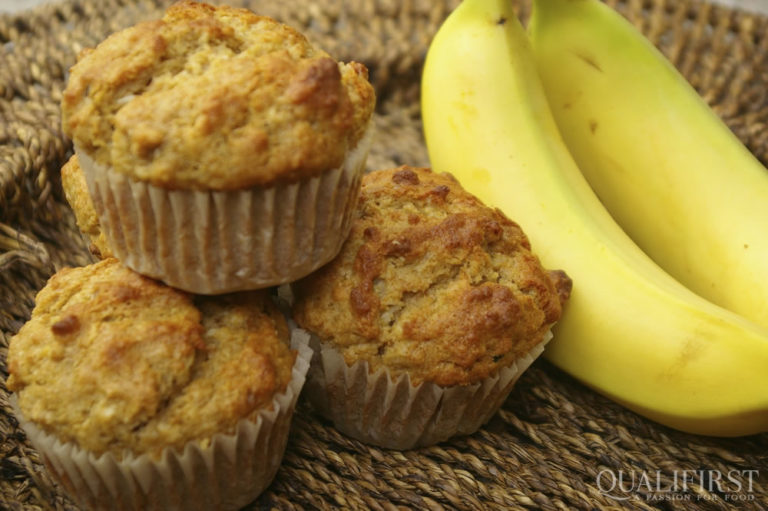 Ingredients:
1-1/2

cups

quinoa flour

1/2

cup

extra-fine ground almonds

1/2

cup

fine coconut

2

tsp

baking powder

2

tsp

baking soda

1

tsp

ground cinnamon

1/4

tsp

ground nutmeg

1/4

tsp

kosher salt

1

large

egg

3/4

cup

light brown sugar

(packed)

3

large

ripe bananas

(mashed)

6

Tbsp

grape seed oil

1

tsp

vanilla extract
Instructions:
Preheat oven to 375°F. Grease or line a muffin pan with cups.

Sift together the quinoa flour, ground almonds, coconut, baking powder, baking soda, cinnamon, nutmeg, and salt.

Whisk together the egg, brown sugar, bananas, oil and vanilla.

Add the flour mixture to the wet mixture, stirring just until barely combined. Do not over mix or the muffins will be tough.

Divide the batter evenly into the prepared tin.

Bake for 20 minutes or until a toothpick inserted into the centre comes out clean.

Serve warm with butter.
One of the challenges for those living gluten-free is preparing delicious foods that all can enjoy. Cooking and baking are so much more pleasurable when two separate recipes or meals don't have to be made.
Do not sacrifice taste and texture:
Finding gluten-free recipes that work and taste delicious to even the fussiest eater is not an easy task. The absence of gluten can often mean that taste and texture sacrifices are apparent in the finished product. It is not uncommon for gluten-free baked goods to have little to no rise and for the strange flavours of substitute ingredients to turn sensitive palates off. The reality is that even when a recipe is good, gluten-free baking will always have a tenderer crumb than regular baked goods since gluten gives structure to dough's and batters.
Here's the recipe:
In the example below we cooked a batch of mini-muffins to share with all team members in the office.
Even the most skeptical will enjoy these:
It's always a delight to find a baked good recipe to please even the most skeptical. These Gluten-Free Muffins with Banana and Quinoa have both exceptional flavour and a pleasing texture. They are perfect for breakfast or brunch and also make a terrific snack. The flour substitute here is a mixture of quinoa and almond flour or finely ground almonds. Quinoa can have a slightly bitter flavour that some find unpalatable but this recipe compensates for that with the delicious additions of shredded coconut, vanilla, and spices. Ripe bananas also provide flavour and moisture and young palates will love the optional addition of chocolate chips. These muffins bake to a beautiful rise. They have a lovely golden finish, are very moist, and only slightly tender. Other flours like coconut or white rice can easily be substituted for the quinoa flour called for here. This is a recipe where you won't have to tell anyone they are gluten-free. They are sure to be a hit. Don't be surprised if you're asked to bake these gluten-free muffins often.