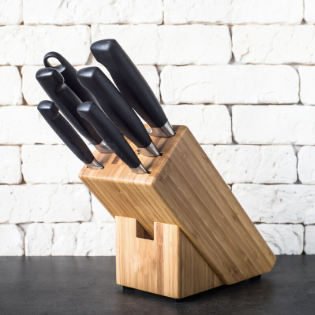 Knives
We're knife enthusiasts just like you. That's why we know there's nothing better than a knife that feels like an extension of yourself and weathers the storm with you through a challenging day in the kitchen. A good kitchen knife is a testament to a good chef. You wouldn't cut through a warm buttery brioche bun with a paring knife or dice a tomato with a bread knife, and neither would we. That's why we've curated a wide selection of kitchen knives for every process in your kitchen. We carry specialized items like ergonomic butcher knives as well double-gritted knife blocks to suit every knife niche. A good meal comes from a good set of ingredients. Treat your ingredients well with the right knife.
In-Stock at our Toronto and Vancouver Locations.
Next Day Delivery in GTA and Metro Vancouver.
FREE DELIVERY ON ORDERS OVER $50.

Browse the catalog on your mobile device.
Enter your email address below and receive the exclusive link!