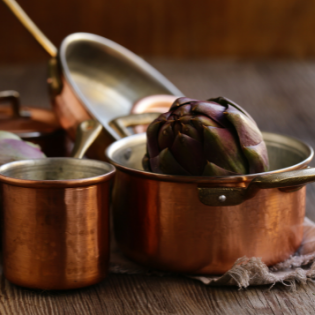 Ceramic Copper Pan Sets
Feel the difference in your kitchen by switching to copper cookware for your collection. These restaurant quality copper pans are durable, highly heat-conductive, and seasoned for immediate use in your kitchen.
Searing steaks and pan-frying chicken will never be the same, with a copper frying pan set that includes a stir-fry pan, grill pan, and eggpan, and the perfect 12-piece copper cookware set that gives you or cooks everything they need to prepare your entire menu. The non-stick surface is easy to clean and protects against food burning. Keep oil splashes under control with a simple steel mesh splatter screen.
Aucun article défini
Aucun article défini dans la catégorie "Wares / Kitchen / Cookware / Ceramic Copper Pan Sets".