My team asked that I write a post about women and cocktails, and I feel as if I have been handed a live grenade on a silver tray.
Why you ask?
There is such a powerful emotional association between women and cocktails, interwoven over time with so many extremes.
From their role in Prohibition, to being the archetype of conspicuous consumption full of glamour and power. The international film and entertainment industry seems to be fueled by cocktails, many held by women.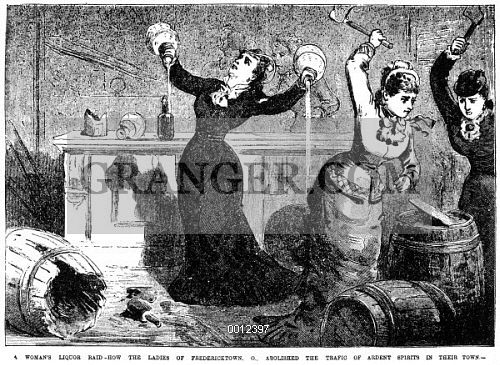 A Story Rich in History
It took some time to track down a superbly-written article I read a few years ago but I finally found it; Girl Drinks in Slate.com.
Penned by Troy Patterson in January 2013 to celebrate the 25th anniversary of the Cosmopolitan, Patterson's  powerful writing style and wealth of detail on the "Girlie Drink" from the 1800's to today is impressive. Humerous, irreverent, but unfailingly accurate, Troy Patterson's tour of the evolution of cocktails for women is certainly a recommended read.
Now that you are all mesmerized by the article, including the poetic hyperlinks, it is time to talk about the reality.
Women Drive the Cocktail Menu
Women drive the cocktail menu and as any smart restaurateur knows, it pays to pamper your women customers.
Restaurateurs need to address the needs and desires of women. They need to pay attention and deliver what they want.
You do not have to be a mind-reader to know what women want in a cocktail, but you do have to pay attention. Typically it has to be sweet or milky, and it has to look amazing.
Female customers are going to take a very close look at their cocktail and the person serving it, all before taking that all important first sip. And, they are going to judge your entire restaurant based on this initial experience.
Give a woman customer a plain-looking, obscure-tasting, poorly-executed cocktail, delivered indifferently, and you will have not only lost her, but a lot of potential future customers as well.
Women talk.  Often even more when their experience is negative.
Is it fair that a restaurant is written off because the Cosmopolitan was not served in a sexy glass, tasted murky, and was plunked down on the table by inattentive wait staff?
Customers raise their eyebrows and say "Yes.  Absolutely".
It is also not fair that waitresses that are blonde, wearing red, or that draw a smiley face on the bill get higher tips. But these are truths that have been studied and hold true.
So, again I stress, a restaurateur must pay close attention to the presentation, delivery, and taste of their cocktails. Particularly those served to female clientele.
The power that women have over the popularity of cocktails is very evident. Recently there has been chatter in the industry about the trend of women towards whiskey and its impact on vodka sales.
Vodka sales are growing slower than the rate of growth of drinks in general, so the chatter is all about women migrating away from vodka based cocktails. The article Whisky-Swilling Women are Killing Vodka Sales is one of many illustrating this trend.
Women are powerful contributors to cocktail sales, it is true, but catering on the basis of gender is not the only way to increase profits.
Making Cocktails that Wow
The elements of a Cosmopolitan that will wow your customers:
The Sexy Glass: Invest in a great glass that gives the best first impression, because you never get a second chance to make a first impression.

The Ingredients: Inexpensive alternatives ruin the drink. Never use a cheap Triple-Sec. Use real Cointreau from France and always squeeze the lime juice fresh.

The Service: Serve with style and grace. The waiter or waitress' attitude is as much part of the cocktail as the glass.

Just as it pays to invest in an awesome quality coffee and tea, it pays to invest in the best cocktail ingredients, including the garnish, because this is often the last impression left of a restaurant.
The ultimate goal of the cocktail is to get the reaction that it tastes as good as it looks.
When it comes to cocktails, style and presentation will increase traffic and it is certainly worth some study to get it right.
Many extreme examples of outstanding presentation illustrate this trend. They actually give a restaurant an opportunity to be unique, and stand out from the crowd.
Would you EVER forget the Eau de Vie bar in Australia that served you this Lady's Leg Cosmopolitan?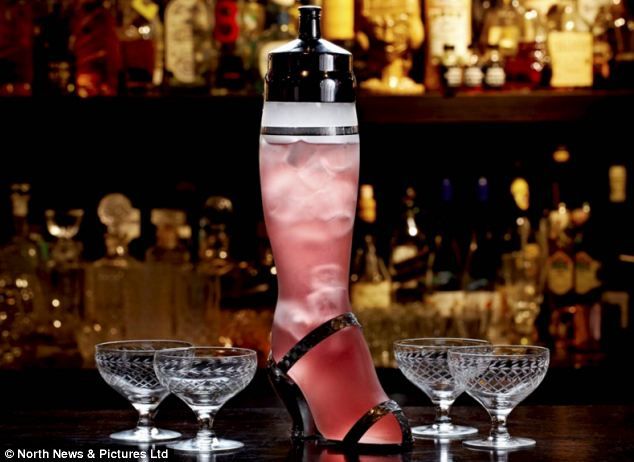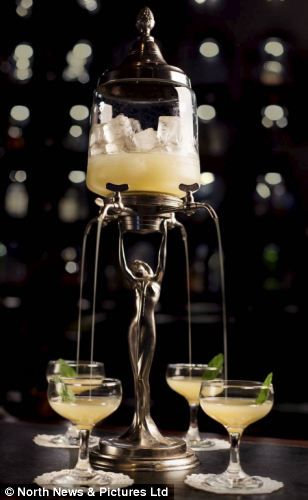 Everyone that sees this will certainly be talking about it, meaning more traffic for the restaurant.
If I owned a restaurant and bar, after seeing the silver-encased lady's leg, I would be searching for a glass blower and jewelry maker, as it is an awesome prop.
The Absinthe fountain, also at Eau de Vie bar, is another amazing example of a creative way to serve cocktails that will get people talking, and coming back.
Looking for something awesome to rim a cocktail? Something to wow women? Sweet, pink, with a European edge?
Grind some Pink Almond Praline and rim the glass. This uber-sophisticated pastry ingredient, used to make pink brioche in France, has a new job, creating innovative cocktails.
Special Theme Based Cocktails
A popular way to inspire cocktail consumption is to theme-sell. From cocktails celebrating Movember in Palm Beach to cocktails aimed to increase funds raised for breast cancer research, a creative bar team can increase profits by linking cocktails that have been around for years to specific events.
New James Bond film being released? Promote the James Bond iconic Martini and Vesper, from Casino Royale. The Vesper is actually lifted right out of the 1953 Ian Fleming novel Casino Royal, and has been resurrected in the film. Before the film, if you asked for a Vesper you would probably get a blank look. Today, ask for a Vesper, and you get one without hesitation.
Valentine's Day? Cocktails celebrating Valentine's Day are inevitably going to be pink. It is shocking to see restaurants and bars failing to stock Rose Champagne for Valentine's Day. Definitely a missed opportunity.
Bastille Day? July 14th is Bastille Day in France and a time to offer the French 75, with its amazing history. Also a day celebrated with Champagne, served by the glass.
St. Patrick's Day? March 17th marks the day to enjoy all things green, including cocktails. Every year the list of options grows. A bar expert, bar chef, or mixologist will have many good suggestions. And keep the recipe handy for December, because a delicious green cocktail is perfectly named The Grinch come December.
Fund-raising for hurricane Katrina? Why not a world-wide event where for every Sazerac sold (a New Orleans classic cocktail) $1 is donated to the Katrinna Fund.
As restaurants and bars move towards true social hubs in their own right, with proprietary apps informing clients of new food offerings and special events why not extend this to include drink specials?
Feature an event called Lady's Night Out, offering cocktails specifically geared to women's tastes. Enticing women to choose the restaurant based on their cocktail program.
The art of cocktail making is a powerful trend that gets customers excited.
A visitor that is not usually interested in cocktails needs something over and above the traditional. Here, personal preferences come into play.
A cocktail made specifically for a customer based on their personal preferences turns that customer into a fevent fan. And fervent fans keep coming back, bringing people with them.
For a 100 seat restaurant, with a bar operating at roughly 60% capacity, a 5% boost in business is significant. Having a full, ever changing, cocktail program can lead to this level of growth.
So what's stopping you?