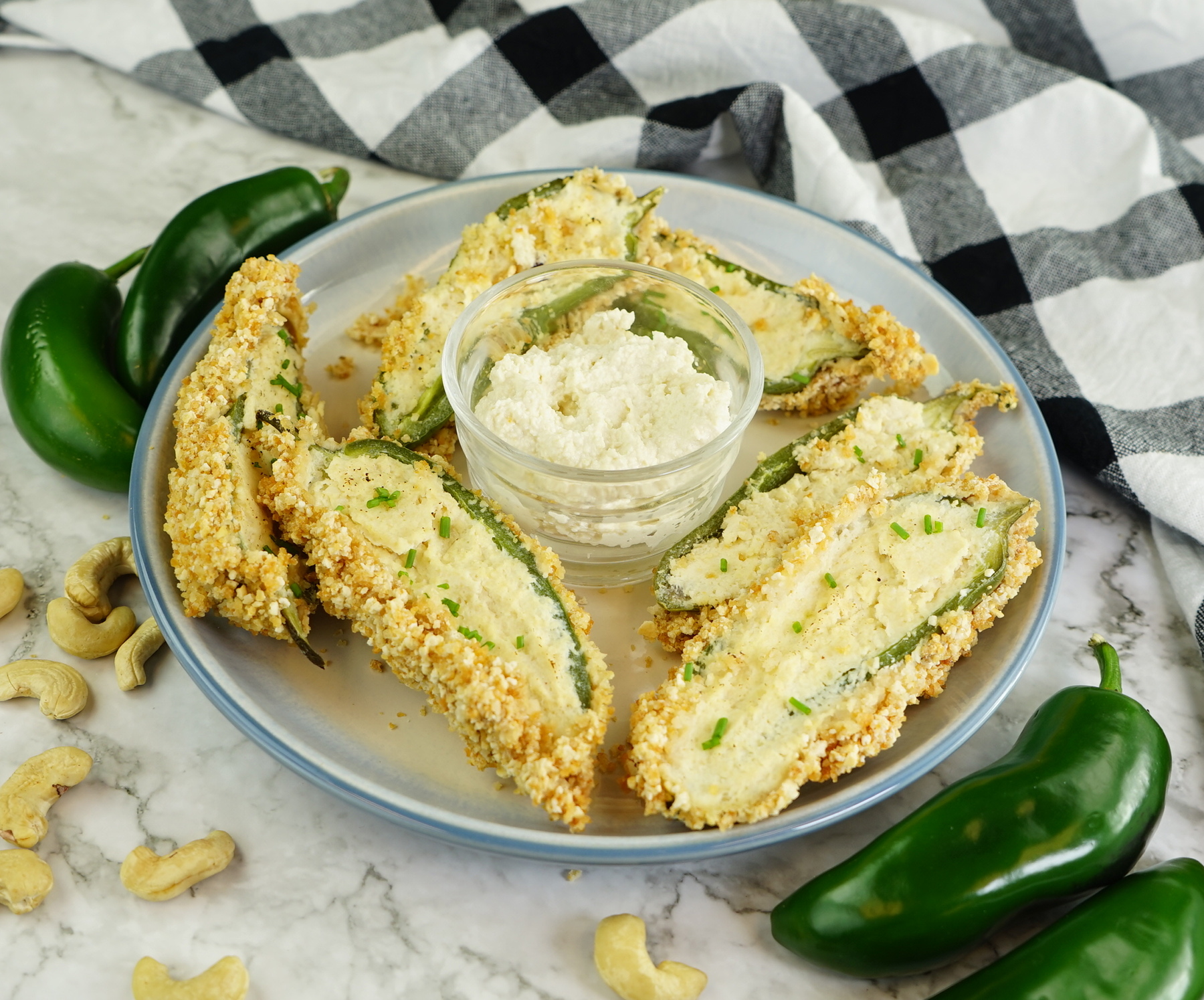 Instructions:
Preheat the oven to 425°F.

Cut each jalapeno in half and scoop out the inner flesh and seeds from the pepper.

Bring a medium pot of water to a boil. Lower heat and blanch the pepper halves for 2 minutes and then place in an iced water bath. Drain and dry with paper towels. Set aside.

To make the Cashew cream cheese: drain the soaked cashews and transfer to a food processor. Add garlic, lemon , salt and 2 tsp nutritional yeast. Blend for 1 minute or until smooth and creamy similar to a cream cheese. Set aside.

To make the batter: in a bowl, whisk, vegan flour, soy milk, nutritional yeast, salt and paprika. Set aside.

To make the breadcrumbs coating: In a separate bowl, combine cornmeal, almond flour and salt. Mix and set aside.

Carefully, spoon the cream cheese mixture into the jalapeno halves. Dip the stuffed jalapenos into the batter. Then transfer to the breadcrumbs coating. Repeat the process for the rest of the jalapenos.

Place the jalapenos on a prepared baking sheet and bake for 20-30 minutes until crisp and browned.

Remove from heat and serve.
TIP: you can substitute soy milk to any plant based milk.    
About Jodi MacKinnon (QFG)
Qualifirst's COO, Jodi loves cooking and baking, taking raw ingredients and turning them into something that is absolutely delicious, with just the right flavour balance, is one of her favourite pastimes.