Balance in a busy business life is a key concept, so when I was invited by good friends to attend their wedding in Mexico, I was delighted to accept. It is hard to say no to unlimited sunshine, the friendliness of a wedding party, and the opportunity to explore the rich food cultures of Mexico.
Technology means my friends get the Blog with no interruptions.
Food in Mexico is heavily influenced by region, like every other country. I am heading for the Baja peninsula all the way to the southern tip where the Sea of Cortez meets the Pacific Ocean, the area best known as "Los Cabos".
This is "Western Mexican Cuisine".
Drenched in sun virtually every day in the year, the seafood, the agricultural power of Mexico, & a strong Spanish influence half a century long combine to create a cuisine that is respected by everyone that samples it.
Since this was a wedding, I did not head off into the smaller towns this time. Instead with the Wedding guests I was in the latest Hyatt hotel: The Ziva, which has a fairly typical layout for this part of the world, as you can see.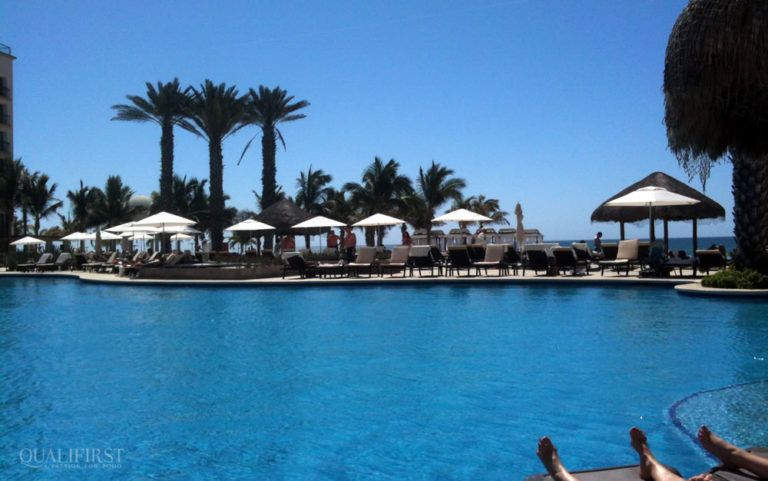 Multiple pools, lots of bars, a super beach, endless sun, etc, etc … ah yes … and multiple restaurants.
The Guacamole is fresh here because avocados are native to Mexico and Central America. A major cash crop for Mexico, this fruit is prized for its taste and nutritional virtues … I am a big fan 🙂
So, ready for interesting highlights?
One morning I spot "Huevos Rancheros" and am happy to try the Pacific coast version. I have had this basic Mexican dish in various parts of Mexico and there are always some differences. I am not surprised that it is delicious and for all the gluten-fearing people out there … it is on a corn tortilla.
I had a good laugh with a friend here about a dish I had many years ago called "Huevos Divorciados", which is two eggs, each with a different sauce, separated by a barrier, hence the name. Since we are here in Baja for a Wedding, it seemed wrong to ask for a divorce dish but it was funny to talk about though.
I got a real treat when I ordered "Huevos con flor de Calabaza" which is scrambled eggs with pumpkin flowers, a real and unique treat.
House Wine Expectations around the World:
At lunch I took a glass of the house white wine. Now normally in North America the house wine is selected to maximize the restaurant's profit and is usually hellish. In France restaurants compete with each other to serve an excellent house wine. House wine always has to satisfy the consumer. The average North American consumer ordering house wine rarely is truly interested in the taste. The average French or Italian consumer 'expects' a certain quality and gets it.
The house wine (a local Chardonnay) was excellent, easily better than 80% of the white wines made in the U.S.A. and Canada.
This also told me that the average expectation for wine in Mexico is high but remains basically a country that prefers beer, tequila, and mezcal.
Keep in mind that a number of common fruits and vegetables come from Mexico and South America. The Potato (from the Andes in South America), the tomato (also from the Andes in South America), Bell Peppers (Mexico & South America), and the list goes on and on. All of these products are cooked any number of ways, the variety is stunning and a vegetarian's delight.
Here on the tip of the Baja, surrounded by water, seafood is the main offering, prepared with local spices, often grilled, and healthy eating is the norm.
To bring home the depth of the food and wine culture in Mexico, you only have to consider the date that the winery Casa Madero was founded in Monterrey, Mexico … that was in 1597.
Monterrey is far from Baja, but the Spanish roots are deep, all over Mexico.
Some Great Dishes:
Here are Margarita Mussels breaded with Pico de gallo, corn, a chili Serrano oil and coriander. The dressing is a Chipotle mayo.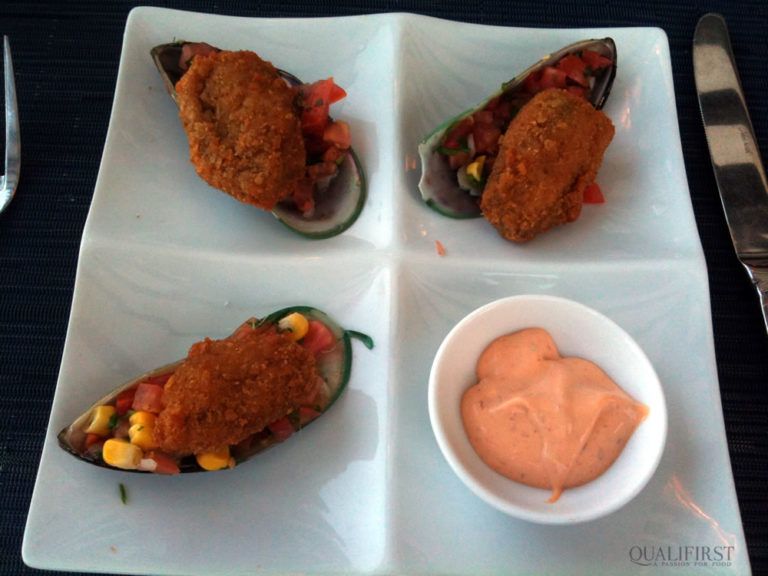 The Mexican influence is pretty clear and it really illustrates what you come to expect from Western Mexico: seafood, traditional Mexican influences, and local ingredients such as Chipotle.
Next was the tropical Avocado salad with smoked marlin in coconut milk and piquin chili dressing.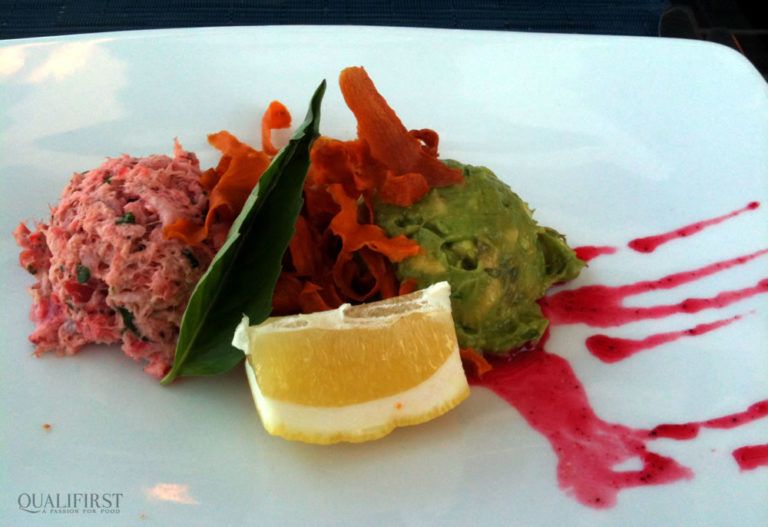 Given the fact that the worlds largest prize fund Billfish fishing competition is held in Los Cabos, the ingredient Marlin is completely local. Subtly smoked this went well with the fresh avocado. Just as a point of information, "billfish" includes swordfish, spearfish, sailfish, and Marlins.
Next up was a main dish, a whole lightly fried red snapper with Cuban Rice and Ajipicante sauce with peppers and coriander.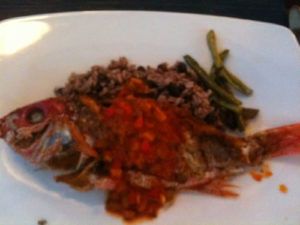 Sorry of the bad focus (my bad) but the fresh whole fish, partially deboned, quickly fried was delicious. It is not common to prepare fish this way but properly done the result is amazing. Now Aji Picante is common across South America and in Mexico here was significantly less hot than it could get.

The next main caught my eye: Jaiba! This local crab is carefully shelled, mixed with mango, dried chilis, coconut, and herbs, then spooned back into the crab shell.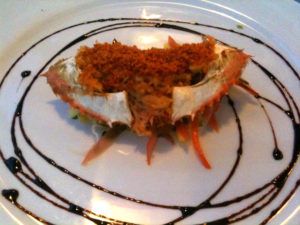 Stupendous and delicious enough that I admit I raved a little about it. The Chef was kind enough to talk about this dish and the others.
Dessert is often an Art first and Food second.
The grilled coconut flute with grilled pineapple sauce left me speechless it was so good.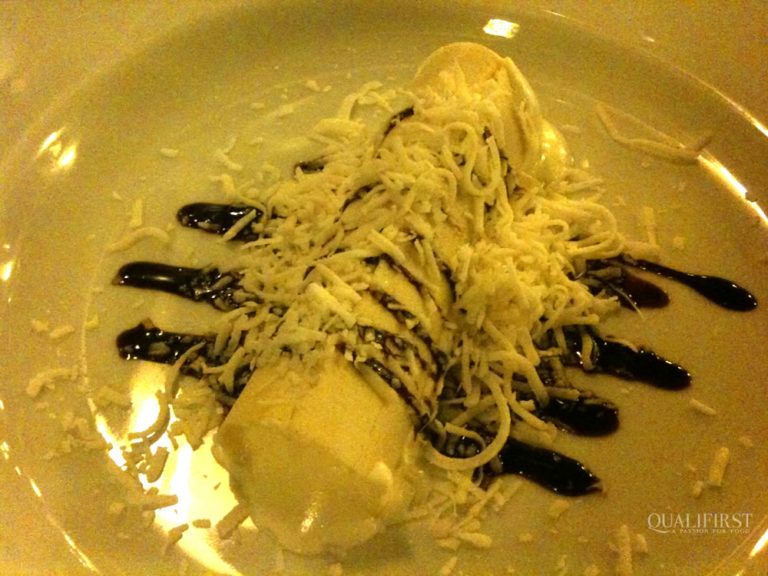 Mexico is a culinary mosaic with numerous different regional cuisines.
There are seven recognized regional Mexican cuisines: Mexico City, Northern, Oaxaca, Veracruz, Chiapas,Yucatan, and Western Mexico.
All are influenced quite naturally by the local products and a Spanish culinary tradition that is historic.
This Blog post is about the Western Mexican cuisine in the province of Baja California, which is heavily oriented towards the bounty of the sea.
I hope this was interesting and next week we look at a "pink ingredient" … yes, that is a hint.