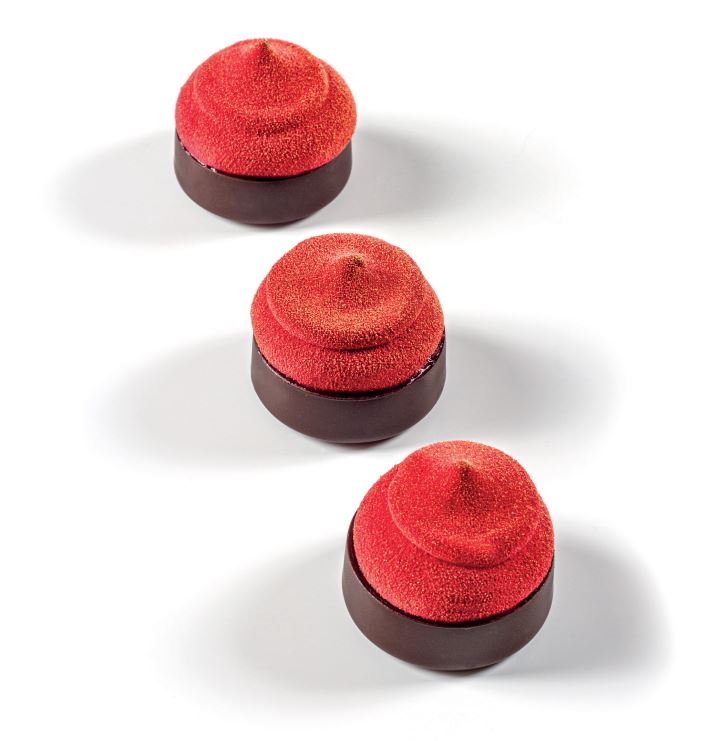 Prep Time
0 mins
Cook Time
0 mins
Total Time
0 mins
Course:
Cuisine:
Servings: 50 People
Calories: 0
Ingredients:
CHOCOLATE GENOISE SPONGE

160

g

Butter

130

g

Egg yolks

240

g

Egg Whites

3

g

Salt

150

g

Sugar

120

g

Flour

15

g

Cocoa Powder

4

g

Baking Powder

SAN MARTIN CREMEUX

175

g

Whipping Cream

55

g

Inverted Sugar Syrup

40

g

Egg Yolks

4

g

Gelatine

175

g

Milk

RASPBERRY & BERGAMOT COMPOTE

330

g

Raspberry Puree

70

g

Bergamot Juice

85

g

Sugar

8

g

NH Pectin

2.5

g

Citric Acid Solution
Instructions:
CHOCOLATE GENOISE SPONGE: In the mixer bowl, combine the softened butter,
egg yolks, salt and the chocolate which has been melted at 45 oC. Beat the mixture together (the mixture must never go below 29-30 oC). With the whites and sugar, make a French meringue. Meanwhile, sift the flour, cocoa and
baking powder together. Gently fold the meringue into the previous
mixture. Then add the sifted dry ingredients. Place on a sheet of baking paper or a silicone sheet to a depth of 0.7 cm.
SAN MARTIN CREMEUX: Make a custard with the cream, invert sugar and
egg yolks (85 oC). Add the rehydrated gelatine. Gradually pour onto the melted chocolate and emulsify. Stir in the milk and emulsify again. Leave the mixture in the refrigerator for 12 hours. Beat at a medium speed. Once the mixture has increased in volume and forms peaks, make swirls on a silicone sheet the size
of the Small Dark Round Slim and freeze. Use a spray gun containing the red spray mix.
RASPBERRY & BERGAMOT COMPOTE: Heat the raspberry purée to 40 oC. Mix
together the pectin and sugar. Sprinkle onto the purée while mixing with a whisk. Bring to the boil. Remove from heat and add the citric acid solution and bergamot juice. Mix well and pour onto the cooled chocolate Génoise to a thickness of 0.3 cm. Leave to set in the fridge.

ASSEMBLY: Place a little crémeux into the Small Dark Round Slim and over the compote and the Génoise, which has been previously cut out with a cutter. Cover to the edges with a little more crémeux and smooth with a spatula. Place the red swirl on top.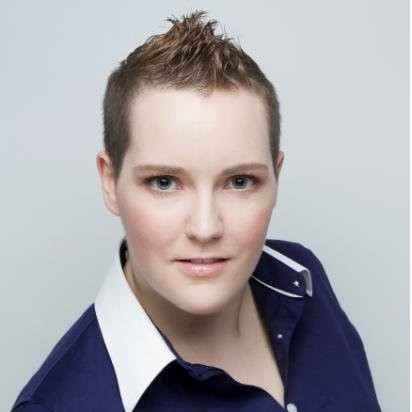 About Jodi MacKinnon (QFG)
Qualifirst's COO, Jodi loves cooking and baking, taking raw ingredients and turning them into something that is absolutely delicious, with just the right flavour balance, is one of her favourite pastimes.