Butterfly Pea Flower, Worth the Hype?
October 19, 2020

by

Jodi MacKinnon (QFG)

Leave a Comment
The Magic of Butterfly Pea Flower


After blowing the minds of her Instagram followers with her colour-changing beverage, Kylie Jenner's demonstration of Butterfly Power Tea went viral. This trending tea is an ancient medicinal drink that is derived from the Butterfly Pea Flower and has been used in South East Asia and other parts of the world for centuries.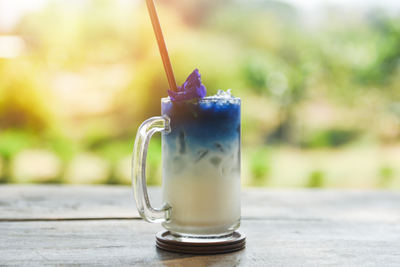 Butterfly Power Tea is unique in the fact that it changes colour as the pH balance alters. So, when billionaire beauty mogul Kylie dropped a slice of lemon into her drink and it changed from cobalt-blue to a bold shade of purple, her Instagram page blew up!
When Butterfly Pea Flower is taken, it increases the organic neurotransmitter acetylcholine, which is one the chemicals that decreases in the brain as we age. Acetylcholine is the chief neurotransmitter of the parasympathetic nervous system and is responsible for muscle activation, slowing down heart rate, dilating blood vessels and more.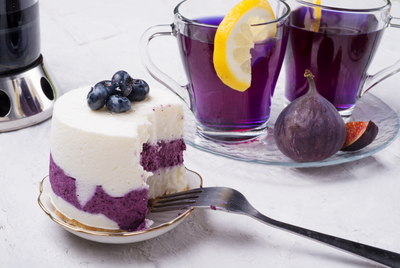 It is usually served as an after-dinner drink with lemon and honey – but you can have it any time of the day! It is an all-natural tea that has also been referred to as Clitoria Ternatea. It is said to promote brain functioning, longevity, weight loss and may enhance memory.
And there is more! This unique beverage is believed to work as a great detox tea that can improve eyesight, skin, hair and more. Dealing with depression, high stress, or anxiety issues? It has also been used as a calming agent for those unbearable mental health moments most of us have experienced at some point in our lives.
How to make Clitoria Ternatea
Add 1 ½ teaspoon of loose-dried butterfly pea flower to a cup of hot water. Steep the tea. Add a slice of lemon and honey and watch the colour-changing effects unfold!
Whether you are home schooling and want to show your kids how this little beverage experiment works or if you want to dazzle your friends at your next socially-distanced get together – it will be a hit!
Do you believe it is worth all the hype? We would love to hear from you! Let us know in the comments below!