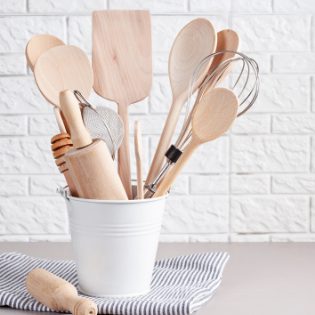 Utensils
They say, "you never know what you've got until it's gone." That's why we curated a collection of silicone kitchen utensils that won't rust, won't bend, won't scratch your pots and pans that'll stay by your side in the kitchen so you won't have to hunt down new supplies in a few months. We've also carefully selected items for the small "unseen" processes in your kitchen; cheese cloths for dusting powdered sugar onto decadent pastries or basting a Thanksgiving turkey, or just making good cheese; wrapping freshwater eel to pair with your sake in sushi roll mats; and milk bags to filter dairy, soy, coffee, and grape wine.

In-Stock at our Toronto and Vancouver Locations.
Next Day Delivery in GTA and Metro Vancouver.
FREE DELIVERY ON ORDERS OVER $50.

Browse the catalog on your mobile device.
Enter your email address below and receive the exclusive link!