RISING STARS

CHRIS STEWART BRINGS WITH HIM AN EASTERN CANADIAN AND EUROPEAN BACKGROUND, HAVING WORKED IN SOME OF THE WORLD'S MOST WELL-KNOWN KITCHENS.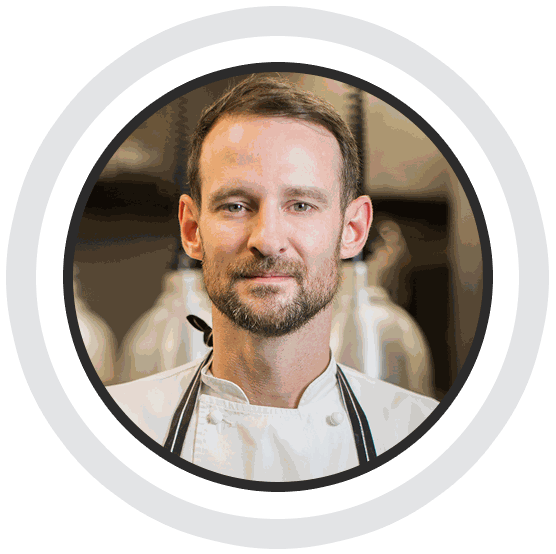 CHRIS STEWART
CHEF DE CUISINE AT HAWKSWORTH
As the newest member of the award-winning Hawksworth Restaurant team, Chris Stewart brings with him an Eastern Canadian and European background, having worked in some of the world's most well-known kitchens.
After graduating from Prince Edward Island's Holland College in 2001, which is recognized as one of Canada's most esteemed cooking schools, Chris went on to hone his skills through stages at the Auberge du Pommier in Toronto, as well as Thomas Keller's French Laundry and Bouchon Bistro in California. He then returned home to Canada as the Chef de Cuisine at Rimrock Resort Hotel's Five Diamond Eden Restaurant in Banff.
In 2009, he relocated to the U.K. to begin his tenure with Heston Blummenthal at the renowned three Michelin starred Fat Duck in Bray. Named 'Best Restaurant in the World' for two consecutive years, Blumenthal's restaurant and his innovative pursuit of culinary perfection provided Chris with a fantastic experience. A highlight during his time in Britain was his selection as a member of the culinary team that cooked for Queen Elizabeth II at her private birthday dinner at Windsor Castle.
With a love of teamwork in the kitchen and a passion for showcasing the seasons through his dishes, Chris truly believes that simplicity is best. His seasonal and ingredient forward style is combined with a love of seafood and shellfish that stems from his background growing up in New Brunswick. The call of the ocean brought Chris out to Vancouver in 2016 from his previous post in the Okanagan as the Executive Chef at Mission Hill Family Estate. Chris has spent the past five years in Kelowna working closely with local farmers and purveyors to bring the freshest of ingredients to the winery's kitchen. Now as Hawksworth's Chef de Cuisine, Chris hopes to bring his unique energy to the restaurant's front-line. In his spare time he plans to eat more ramen and continue his passion for travel with trips to Bali, Southeast Asia and Bordeaux.