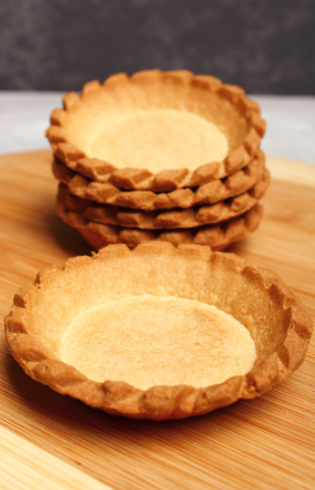 Tarts & Cones
Create refined desserts, but don't spend all day in prep. These dreamy sweet tart shells, gorgeous basket cups, and delish cones are:
Buttery

Fresh

Tender

Ready-to-use

Handcrafted
Your basic tarts aren't so basic when they start with tarts & cones from La Rose Noire, the world's premiere creator of handmade pastry nests. Choose shapes and sizes that complement your own creative vision. You can choose from square, round, or rectangular tarts and assorted colors of basket cups and savoury cones. Brushed with couverture to keep the filling from soaking into the pastry while displayed, your plat du jour remains firm so you and your guests have a consistently mouth-watering experience.
In-Stock at our Toronto and Vancouver Locations.
Next Day Delivery in GTA and Metro Vancouver.
FREE DELIVERY ON ORDERS OVER $50.

Browse the catalog on your mobile device.
Enter your email address below and receive the exclusive link!