Cacao Powder 22/24 1 kg Choctura
Cacao Powder 22/24 1 kg Choctura
Chocolate is good for you! Yes! But, only in its Raw state - unheated, no trans fats, no sugars, no dairy etc. It is in fact the highest antioxidant superfood known to man. Cocoa powder contains far more antioxidants per 100 g than acai berries. Cocoa Powder has an appealing mild chocolate flavour, lacking the bitterness and acidity of natural cocoa, which makes it easier to blend with other flavours. Think hot chocolate, mousse, sauces, biscuits, ice cream, sorbet, or for decorative purposes. Our cocoa powder is alkalized.
Origin:
France

More than 60 Years of Specialty Food Sourcing Experience

Trusted By Over 2,500 Establishments Across Canada
This combination does not exist.
PREMIUM QUALITY – Our rich and chocolatey Cacao Powder is extracted directly from Cacao beans and has been Dutch-processed to neutralize its acidity and bitterness while maintaining its incredibly powerful benefits bringing a mild, complex flavour and a chocolatey aroma. With A warm chestnut color, it is suitable for dusting and coating.

BENEFITS – Cacao Powder is extracted from the Cacao Bean, and is known worldwide as a powerful superfood. With about 40 times the antioxidants of blueberries. It is known to improve heart and brain performance, reduce inflammation, and is great for your hair, skin, nails and teeth.

BAKE LIKE A PRO – Add 1 tsp or more of cacao powder to almost any baking recipe to add a nutritious hint of mild yet complex chocolate flavouring. Add cacao powder to icing sugar and make a homemade icing spread for cakes, cupcakes and muffins. Use Cacao Powder as a nutritious boost to your smoothies, protein shakes, or energy balls.

DUTCH PROCESSED – This Cacao Powder is richer and darker in color, with a mellow, less sharp-tasting flavour. It dissolves more easily into liquids, and since it's stripped of its acids and neutralized, you will often find it in recipes calling for baking powder. It has been washed in a potassium carbonate solution to neutralize its acidity.

USAGE IDEAS – Cacao Powder has a distinct flavour with hints of chocolate, and a mild unique tart, this powder is perfect for flavouring baked goods, dusting, ice cream, sauces, and coatings. Combine with chocolate to create a rich depth of flavour in brownies, cakes, mousse. Add a tsp to your coffee brew to boost antioxidants and add a mild chocolate flavour.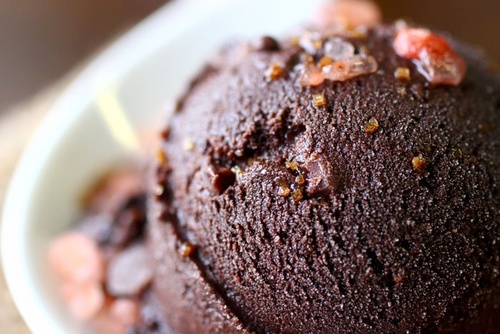 Dark Chocolate Sorbet with Himalayan Pink Salt
June 30, 2015

by

Jodi MacKinnon (QFG)
10 mins
15 mins
25 mins
An intense, dairy-free, dark chocolate flavour with an appealing salty crunch.
Read More
You May Also Like
Suggested products will appear in this section.
Once the user has seen at least one product this snippet will be visible.
Wholesale Pricing

Create a Business Account with us to receive access to wholesale pricing, with instant wholesale approval on orders reaching our low minimum!

Learn More & Sign Up!