Farro Grain Whole 1 kg Epigrain
Farro Grain Whole 1 kg Epigrain
Is Farro better than other grains? Well, for one, it's "ancient". Whole grain farro is delicious and think rustic Italian food. Chefs prize it for its nutty flavour, delicate chew, and versatility. However, the word "better" to describe farro is subjective, but, it's fair to say that it makes a great gateway grain. Farro is delicious as a hot breakfast cereal and in soups, salads, side dishes, and even desserts (a little crumbled fresh ricotta, a drizzle of honey—you get the picture).
Origin:

Canada

More than 60 Years of Specialty Food Sourcing Experience

Trusted By Over 2,500 Establishments Across Canada
This combination does not exist.
Nutrition Facts
Serving Size (g/mL)
Serving Size Consumer Friendly
1/4 cup (52g)
Fat Total Daily Percentage
0%
Cholesterol Daily Value Percent
0%
Sodium Daily Percentage
0%
Carbohydrate Daily Value Percent
14%
Dietary Fibre Daily Value Percent
18%
Ingredients
Farro (whole emmer seed)
STEP UP YOUR GRAINS – Expand the variety of grains you eat by trying this widely forgotten ancient food, which has been nicknamed "Pharaoh's wheat" due to its egyptian origins before it came to Italy. Not only is farro making a comeback for its great taste, it's also more nutrient packed than most other grains.

PREMIUM QUALITY – Epigrain is dedicated to supplying only the best quality ingredients, and their passion for grains and legumes is evident in the wholesome flavour and texture of all of their products. This farro only has 1 ingredient: farro. You can be sure that nothing else has been added and that you have the purest, highest quality product possible.

A CHOICE – Farro grains are extremely high in fibre, iron, zinc, magnesium, vitamin B and protein. It's also sure to fill you up , since it's an unprocessed grain; this means it has an intact bran and germ, the parts of the grain that provide nutrients, protein and fiber, which winds up swelling up in your digestive tract, keeping you satisfied for longer than refined grains. As an unprocessed grain, it is also high in antioxidants.

HIGH VERSATILITY – Farro grain is extremely versatile and can be utilized in myriad recipes. For instance, you can add it in any pureed vegetable soup, stir-fry it with eggs and veggies, toss it in salad, serve it as a hot breakfast cereal with fresh berries and ricotta cheese… the possibilities are almost endless.

ALTERNATIVE DIET COMPATIBILITY – Farro grain is pure food that is 100% vegan and vegetarian friendly, and its high level of nutrients make it all the more suited for a balanced diet of that sort. And while farro grain does contain gluten, it contains lower levels than today's wheat, and if prepared properly, the gluten is pre-digested and broken down by sprouting and fermentation like a sourdough process. This makes it much more tolerable with anyone sensitive to gluten.
COOKING INSTRUCTIONS: In a pot, place 1 cup of farro and 3 cups of water. Bring to a boil. Cover, reduce heat and simmer for 30 minutes or until chewy and tender. Remove from the heat and drain off any excess liquid. Fluff the farro with a fork. Season to taste.

A versatile ancient grain packed with nutrition and flavour. Whole Grain Farro is the berries of some of the first wheat strains known to man including spelt, emmer, or einkorn and looks like short grain rice with a burnished mahogany appearance and a distinct, nutty flavour and chewiness. A grain synonymous with Italian cooking, it's used to make the minestrone-like, Zuppa di Farro, and lentils and farro pilaf. Toss in a salad with roasted root or grilled vegetables, use in place of barley or rice in soups, or serve as a hot breakfast cereal with fresh berries and ricotta cheese. One 1kg bag has approximately 22 servings.
Dedicated to supplying only the best quality wholesale ingredients, our passion for grains and legumes is evident in the wholesome flavour and texture of all of our products. Our commitment to quality is unsurpassed in the industry, and whether searching for traditional grains or creating a unique blend all our own, the Epigrain line has it all. With decades of experience sourcing only the finest grains, you can be 100% assured that every Epigrain ingredient is the highest quality. With a wide selection of nutritious ingredients, creating beautifully presented dishes is more convenient than ever.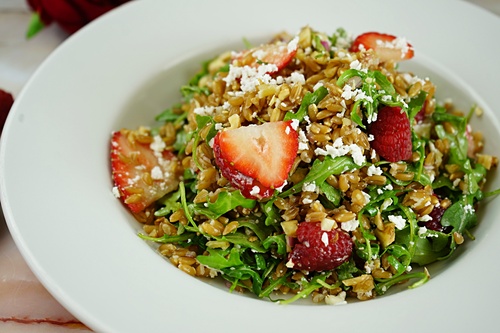 Berry Farro Salad
March 14, 2022

by

Jodi MacKinnon (QFG)
20 mins
30 mins
50 mins
Read More
You May Also Like
Suggested products will appear in this section.
Once the user has seen at least one product this snippet will be visible.
Wholesale Pricing

Create a Business Account with us to receive access to wholesale pricing, with instant wholesale approval on orders reaching our low minimum!

Learn More & Sign Up!