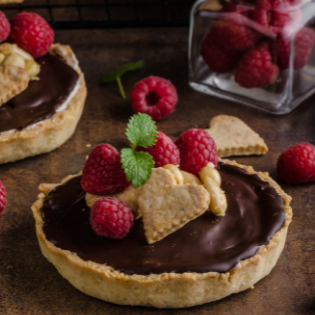 Chocolate, Refrigerate, Frozen
Indulge in the ultimate food experience with our carefully curated selection of premium ingredients! Les Vergers Boiron's frozen fruit purées offer natural and refreshing flavours to elevate your culinary creations. Michel Cluizel and Callebaut's chocolate bars and couvertures are made with the finest cocoa beans and crafted to perfection, ensuring a rich and indulgent taste. La Rose Noire's tart shells and cones provide a convenient base for your pastry creations, while their premium frozen desserts, handcrafted to perfection, offer a range of indulgent treats such as mousse-filled choux buns and assorted macaroons. Finally, La Rose Noire and Michel Cluizel's chocolate shells and decorations are perfect for adding a touch of elegance and sophistication to your desserts. 
With this premium selection, you can create visually stunning and indulgent desserts that will leave your taste buds craving for more!

Note that as frozen items, these will need to be treated as temperature-sensitive products when shipping.
Search results for 'kayambe'